How to Use AI Video Voice Over for YouTube:


A Complete Guide
Michelle G
- Revoicer Team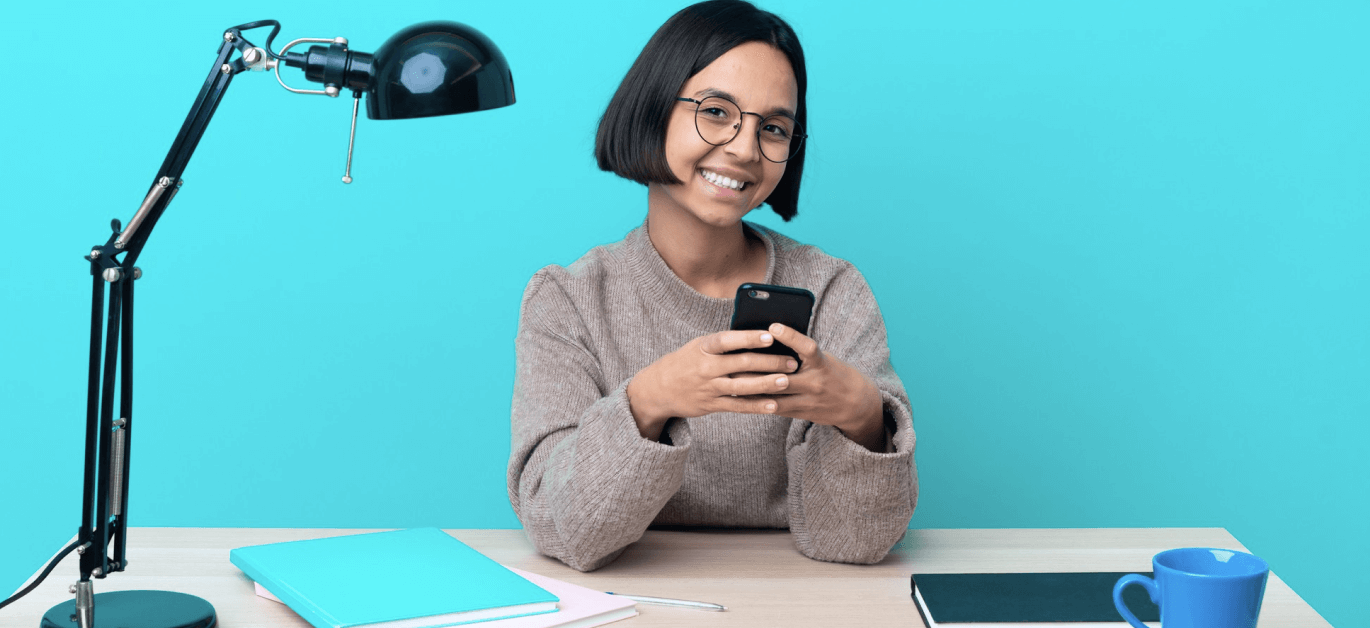 AI video voice over is making life and work a lot easier for content creators. If you belong to that camp, you know how important it is to find ways to enhance the efficiency and quality of your videos.

AI voice over for videos is one of the most popular solutions. It's a great way to adopt a professional and consistent sound, thus elevating the quality of your videos so they can reach a wider audience. If you haven't worked with AI voice over for YouTube videos (or videos for any platform), today we will provide some help with that!

We bring you a quick guide on how to add AI voice to video so you know the steps involved in the process. You'll be surprised by how straightforward it all is and how much of a difference a simple AI tool can make.
How to Add AI Video Voice Over
Now, let's dive into how to use AI video voice over! We will provide an overview of the steps involved. If you're considering AI voice over for videos, knowing how things work will help you determine if it's the right decision for your workflow.

Spoiler alert: it most likely is.
1: Write a video script
The very first step in the process is to write a video script. Now, you have to change things up a bit. You need to optimize your script to the AI voice over tool you're using. Why? Because not all AI voice generator tools can handle lengthy or complex scripts well.

We recommend making the content as clear and concise as possible, keeping your audience in mind. Also, you have to pay attention to grammar, spelling, and punctuation.

Tip: If your AI voice over tool is having trouble pronouncing a specific word, try spelling it the way it sounds.
2: Use an AI Voice Generator
Once your script is ready to go, you need an AI voice generator to bring it to life. If you haven't found an AI video voice over tool yet, it's time to start browsing for options. Revoicer is one of the best AI voice generators out there because it offers everything you need, all wrapped up in a user-friendly web-based app. Plus, it will generate your audio in just a few seconds and allow you to customize the AI voice however you need.
3: Pick a Good Voice to Add AI Voice to Video
Once you have your AI voice over generator, you should spend some time browsing the available voices. For example, Revoicer offers over 80 human-sounding voices. You can check our list of ai voices here!

Finding the one that can represent your brand to your audience won't be difficult. The preview option will allow you to listen to as many samples as you need until you find your holy grail.
4: Customize Your AI Voice
After you choose a voice that suits your brand, you can play with the customization features. In the case of Revoicer, you'll be able to tweak the voice and give it emotion to suit your content. Whether that's friendly, cheerful, sad, angry, unfriendly, whispering, shouting, terrified, or excited.

Additionally, you will be able to customize the voice pitch, tone, and speed. If you're working with content in other languages, Revoicer offers over 40 languages you can work with. The voices will sound natural and clear, and you'll even be able to choose specific accents. Once you're done customizing your AI voice, you can turn your script into audio
5: Export the AI Video Voice Over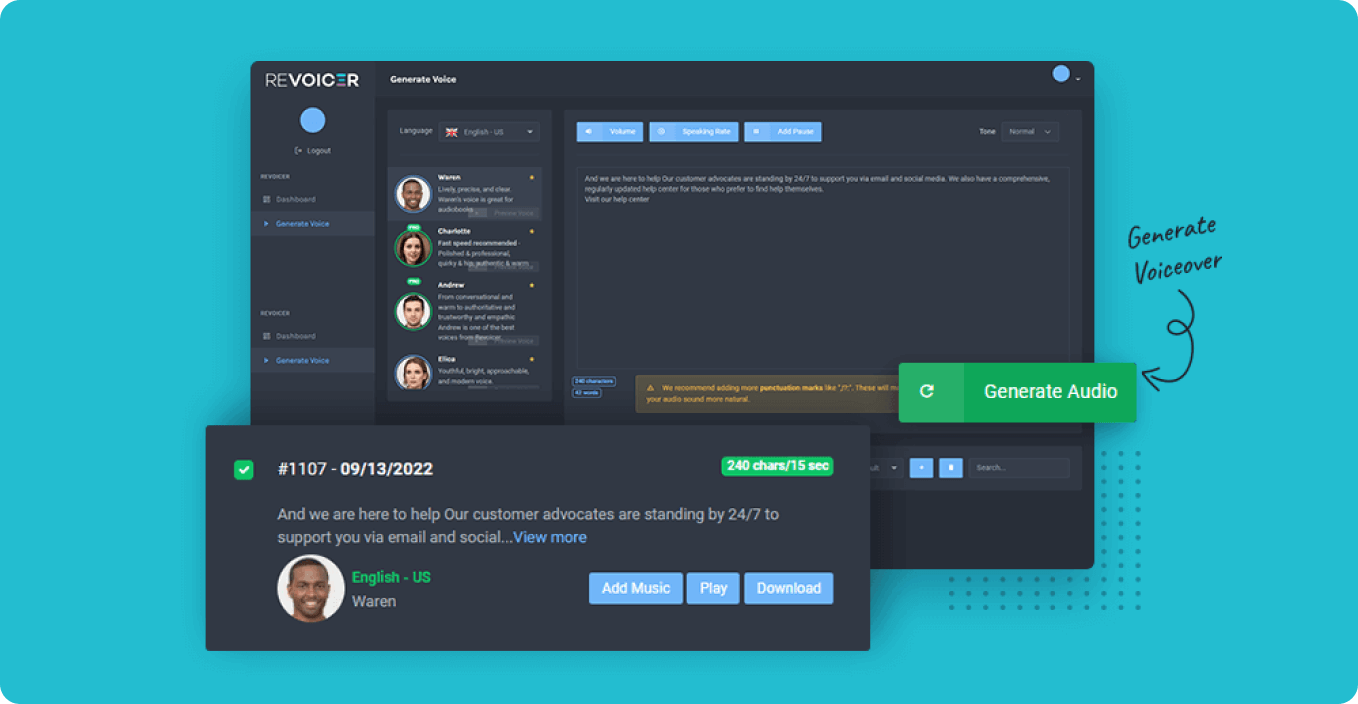 After you're satisfied with the generated voiceover, you can export it in an audio format compatible with your video editing software. Common formats include MP3, WAV, and AIFF. Make sure that the quality and format of the exported voiceover are suitable for your video project. Otherwise, you'll have to do extra work to convert the voice over file into another format.
6: Edit Your Video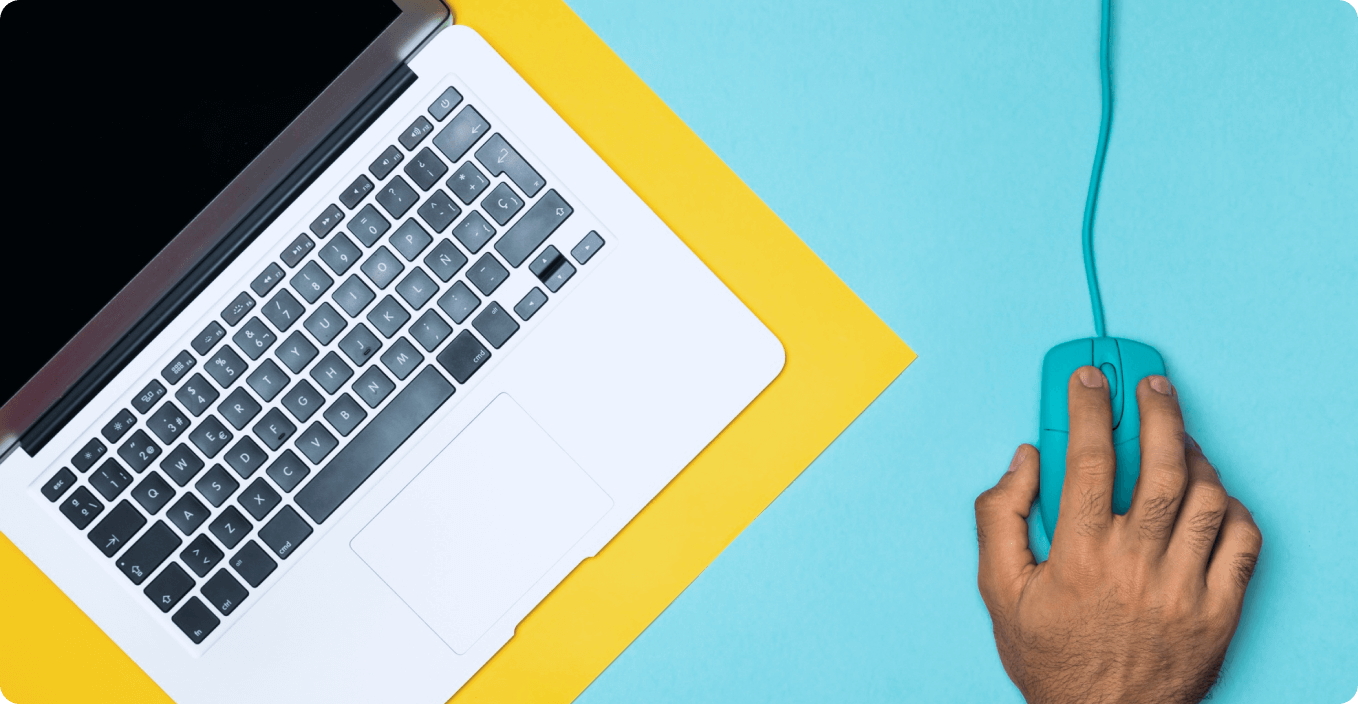 Now, this is one of the fun parts. Once you have your voice over file, you just have to edit your video. The most important thing is to make sure the AI voice over is synchronized with the visuals in the video. Pay close attention to the timing of things.

If you have to go back to your script and edit it, with an AI video voice over tool, this will only take a couple of minutes. You can also use sound effects and background music to increase the quality of the video and add to the voice over.
7: Export the Final Video
Once you have successfully synchronized the AI voice over with your video, it's time to export the final product. Make sure to select the desired video format and settings. If the video is going on YouTube, it should meet all the requirements for upload. Including an attractive video thumbnail, an attention-grabbing title, and a good description (which should have SEO).
8: Upload Your Video
Now that you have your video ready, it's time to upload it to your YouTube channel or whatever platform you're using. If it's YouTube, you have to log in to your account and click on the "Upload" button. Follow the on-screen instructions and make sure to select the right video file.

SEO is very important when you're adding all the complementary details to the video. This will give it the best possible chance. So, make sure to identify the most relevant keywords and sprinkle them in the title, tags, and description. Once you've done that, your video can go out into the world.
AI Voice Over for YouTube Videos: A Game-Changer
AI video voice over can be a valuable resource for content creators. It not only saves time but also provides a consistent and professional voice for your videos. We hope that the steps we explored today gave you a clear image of how to add AI voice to video and take full advantage of a voice generator tool.

Ready to leverage AI video over? Try Revoicer and elevate your content!

Get 67% Discount For Revoicer!
250+ human sounding voices available
Seeing you are interested in the latest text-to-speech tech, we invite you to check our Revoicer, a text to speech app that will generate human sounding audios from your text.
You can read more and profit from the special price, by visit Revoicer.com